Friends,
It has been a good year. A year of renewal. A year of rekindled fire. We have changed game engine, fired up the new forums, released the new and improved website, gotten quite a few new faces on the development team, reorganized and begun releasing information about the game itself. A good year.
Seeing as how many of the developer team members had never worked together with each other like this before, a good portion of the year was spent getting things organized, getting to know each other, exploring the game engine, getting to know our own abilities and limitations and seeing the vision of what we\'re striving towards as a team. We have evolved, matured - together. Together we have created the corner stones - the fundament - for our further development both as a team and with the game itself.
We\'ve also produced a lot this year. In particular our coders and 3D artis(s) have been busy little bees. The rest of us have also contributed with feedback, input to discussions, ideas, suggestions, blogs, riot control and more. But a special acknowledgement to the before-mentioned nevertheless.
As a result we\'re now well on our way to recreating/reinventing the game so many of us really want to see brought to life once again. With a brand new graphical coating, innovations, improvements and the same old, original feel to it all that we\'ve come to expect and cherish as our goal - we believe in what we do.
In part we have you - the community - to thank for that. Despite our different points of view every now and then, I truly believe that. You\'ve supported us, doubted us, nagged at us, praised us, confused us and inspired us. Never a dull day at work. For that we are thankfull indeed.
The other party responsible for our continued progress is our devoted team members. All of us do this in our own spare time - for some that means \"general life\" gets to ride in the back seat. We all want this project to be all that it can be and ,in their eagerness, I\'ve had to restrain certain members from talking too much about their work, due to the responsibility I have as PR Manager. It\'s not because their lack of wanting to tell you. If there are blogs that contain \'teasers\', it\'s simply because I have them tied up and duck-taped - but sometimes they free themselves of the ropes and start to scream about these things in pure excitement of their work. And believe me, it sometimes frustrates us all (The cost of rope these days...). But that is the line we have chosen to take and I will do my part to keep to it. A long story short - they are all hard at work whenever they get the chance no matter the hour of the day.
Unfortunately stress catches us all sooner or later. Good thing christmas is here. Let us all - community and developers alike - spend some time with our families and friends, recharge and recooperate. Gather strength to do what we want to do.
We - the development team - will all be back in action come 2006. Bigger, better, faster (*). We hope that you will rejoin us then and continue your support as it means a lot to us.
It has been a good year! Merry christmas to you all and a very happy new year.
PS : Keep a lookout for a little christmas gift around the evening of the 26th.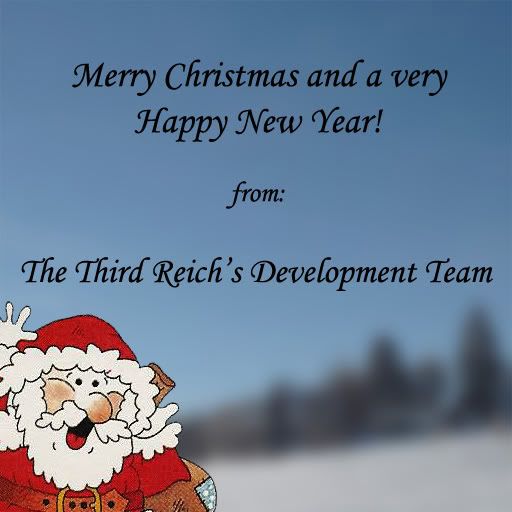 (*) Note : Bigger because of all the good food, better because of all the much needed rest and faster because I'll be getting broadband installed - sooner or later anyways.